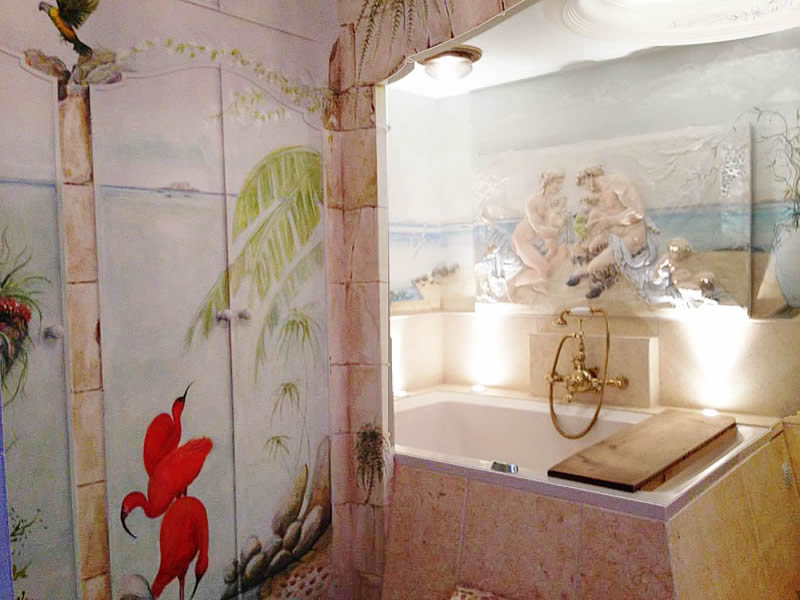 The Project:
In 2013, Mr and Mrs J. L. were planning to refurbish the bathroom of their home in Chester. The room had previously featured a conventional enamelled metal bath but, for the new design, they sought something with more aesthetic flair and distinctiveness. These were essential requirements because the bath would be matched with other high quality fittings and the walls would be decorated with a hand-painted frieze and mural.
The couple had decided that a deep soaking bath, having a smaller footprint but a greater overall capacity than their previous bath, would create more floor space in the bathroom. This meant that a doorway could then be installed to connect the bathing area with an adjoining spare room that would double as a sitting-out annex. Satisfied that this approach would give them the design flexibility they needed, Mr and Mrs J. L. therefore began looking for suitable bath models and concluded that the Xanadu deep soaking tub from Cabuchon would be ideal.
The couple spoke with Cabuchon's design and production teams and explained their vision. The bath would be set into a corner by the new door, with uplighting and a feature light above. The sides of the bath would feature carefully angled tiles and an external step to facilitate access. As a further consideration, they also decided that the bath should incorporate a ThermaSsure water temperature control unit, which would enhance the bathing experience by keeping the water warm without the need for refilling.
Mr and Mrs J. L. then visited the Cabuchon showroom in Lancaster, where they were able to view the Xanadu in person and discuss specific details such as the placement of the touch-pad for the water temperature control unit. Having taken careful note of the couple's preferences and requirements, Cabuchon staff then organised the process of manufacture and delivery.
Once the room had been rebuilt, re-plumbed and re-wired, the new Xanadu was installed, complete with its ThermaSsure unit. When the lighting was ready and the rest of the room was complete, Mr and Mrs J. L. then commissioned an artist to decorate the room in a style matching the frieze above the bath.
"Refitting our bathroom and installing your super bath has been quite an evolution. Also a lot of creative fun, and the result is spectacular… The pictures tell the remainder of the story. The artist is remarkable, and he's still coming from time to time to embellish various little elements. All the equipment, including the ThermaSure, works fine. Delighted on all counts!"