Cabuchon Baths: Baths in Alphabetical Order
The complete range of Cabuchon® luxury baths is listed below. Please use the links to find out more about each model, noting that some baths are available in more than one format. For example, the Elysia is available as both a free standing and a built-in bath. Detailed specification sheets may be downloaded from the individual product pages.
Not Just a Standard Range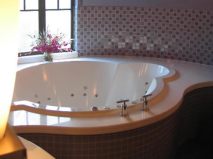 Please note that while the following list is extensive, Cabuchon customers are not limited to choosing from just a 'standard' range. We offer a full custom manufacturing service, so if you want something truly special, you can choose a bespoke bath that's uniquely designed to meet your tastes and requirements. Find out more about bespoke baths.
Please note that all the following models can be adapted to suit your needs. If you would like to discuss options for rim sizes, detailing, special colour or finishes, please get in touch.