Project Description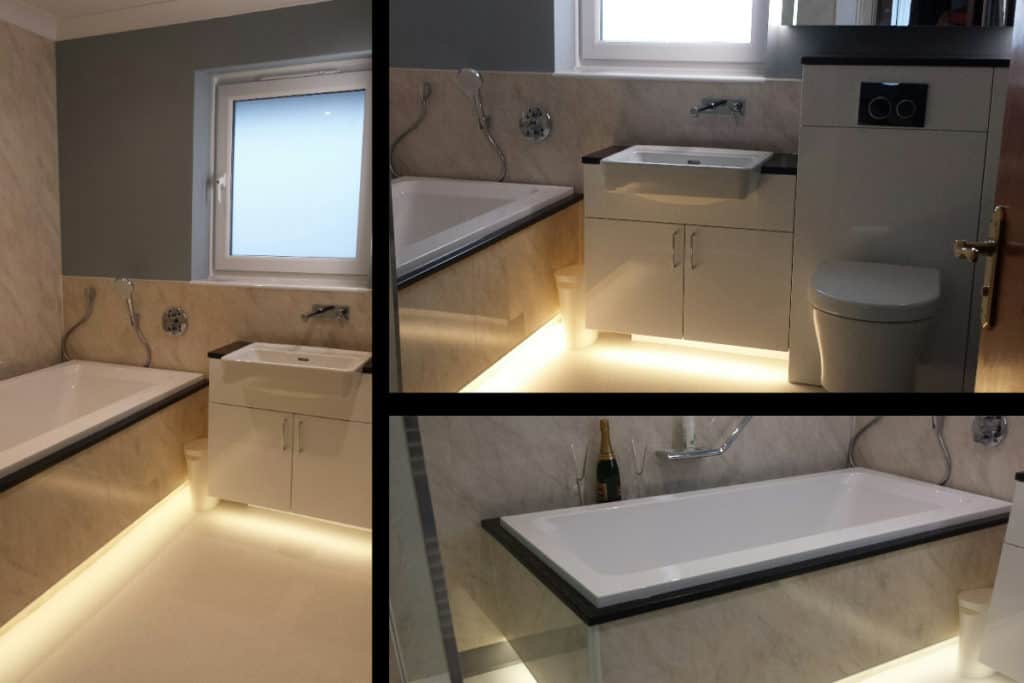 The Project:
London residents, Mr and Mrs K S, were looking for a double-ended bath to replace their old bath, which was unusually deep. Their requirements for the new bath were that it would have to permit shared bathing and allow the regular use of bath salts without degrading.
In addition, the couple wanted a filling system that meant they would not have to fit taps or other brassware to the rim. They wished to keep the surfaces as clutter-free and as easy to clean as possible.
They visited the Cabuchon website, where they discovered the Serenity built-in bath. The Serenity is available in a choice of sizes, with lengths including 1700mm, 1760mm, 1800mm and 2000mm. They opted for the 1700mm model, which neatly suited the space available and still left plenty of space for a separate walk-in shower.
However, before making a final choice, they wanted to get a sense of the bath's material and its tactile qualities. Cabuchon's customer care team duly sent them a sample of Ficore®, together with a data sheet that explained its thermal insulation properties, as well as its resistance to chemicals, wear and abrasion.
Next, the team discussed filling options with Mr and Mrs S. As a result, the couple chose the Cifial Aqua Filler, which is a combined filler and overflow. Mounted on the inside wall of the bath, it would obviate the need for any brassware on the rims, and would be operated by the existing wall valves.
The couple were happy with the proposed solution and confirmed the order. Cabuchon's manufacturing team then set about producing the bath and organising the delivery.
Mrs S tells the rest of the story herself.
"I first came across Cabuchon Bathforms when I looked for a replacement for our old, very deep bath. They were so very helpful at every stage. And patient – I asked so many questions about the bath.

"The Serenity bath is a great sharing bath with good bathing depth. Our builder designed the surround and the 'boxing-in'. We included a 4" ledge against the wall to accommodate liquid refreshments. The surround is Hanex Copper Black.

"It was our builder who suggested the under-unit, movement-controlled LED 'runway lights' for our bathroom. The effect is great – we now have a 'floating' bath. As we are future-proofing our bathroom we also included a 90 x 1400cm open shower area and non-slip flooring, together with Dove PVC skirting – so I no longer have skirting boards to paint or clean. Everything is off the floor."