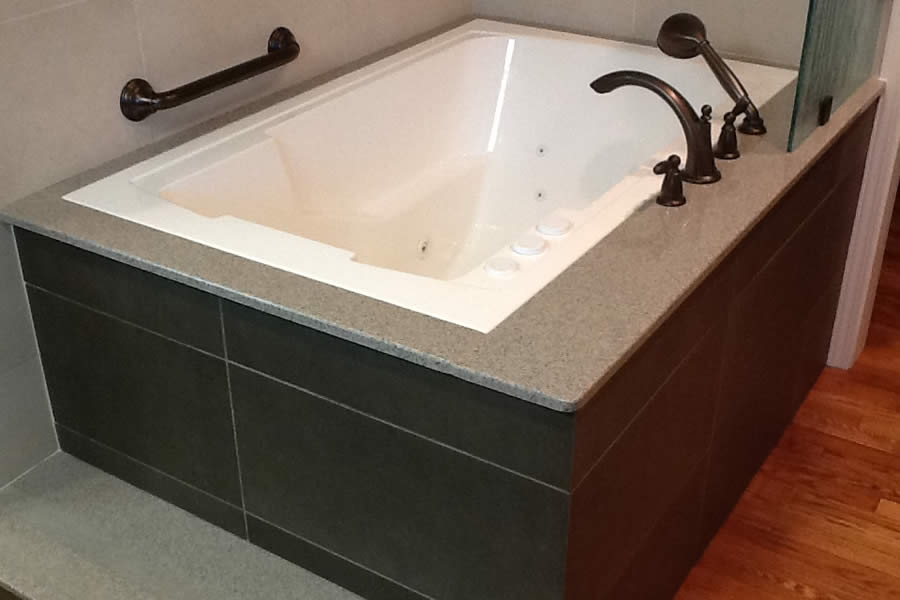 The Project:
For around forty years, Mrs J.C. had suffered from back problems that had made it very difficult to enter and leave a conventional bath tub. For that reason, she had restricted herself to using showers but when she contacted Cabuchon to ask about its range of deep soaking tubs, she found that the pleasure of bathing could once again be hers.
A unique advantage of Cabuchon deep soaking tubs is that the bather may soak in a comfortable and naturally relaxing seated position. This was of great interest to Mrs C., who felt that, firstly, this could make the bath more accessible to her, and secondly, that being able to sit and soak in hot water would be of great benefit to her upper and lower back muscles.
An important element of this discussion was the availability of a tailored hydrotherapy system. Mrs C. believed that the use of hydro-massage could be very beneficial to her back and that, if it were properly designed and fitted, it should deliver sustained relief and relaxation.
Equipped with a clear set of objectives, Cabuchon's bath designers worked with her to determine the ideal number of hydrotherapy jets and their optimum locations. To be sure of gaining the maximum possible benefit, Mrs C. even went to the extent of her giving the team her relevant measurements – such as her height and the length and width of her back – as well as details of the restrictions upon her physical mobility. Through detailed discussions, the team then worked with her to identify the easiest way to enter and exit the bath, which, in the event, proved to be from a step at one end, rather than at the side, which is more usual.
On the basis of these discussions, Cabuchon designed and manufactured a carefully tailored version of its Nirvana deep soaking bath tub, featuring integrated controls for the hydrotherapy system. The bath was shipped to the client's home, where it was installed with a matching step for easy access.
"Success! I was finally able to use your tub. It was fabulous. I love the hydro-jet therapy. The tub holds heat really well and it is nice and deep. I can tell it is going to be very good for my back. I wish I had owned it for years past.

"I have been wanting to send you great pictures of your tub, so that you can see how beautiful it looks over here in America. I soak in it 3 to 4 times a week, many times with Epsom salts, and it has provided enormous relief for my back. The other aspect is that I have been taking showers for 40 years, and it is hard to believe that I have been forgoing the luxury of tub baths for so long!

"All my neighbours and relatives are just in awe when they see the tub. Thank you for your persistence in helping me with the tub."