Project Description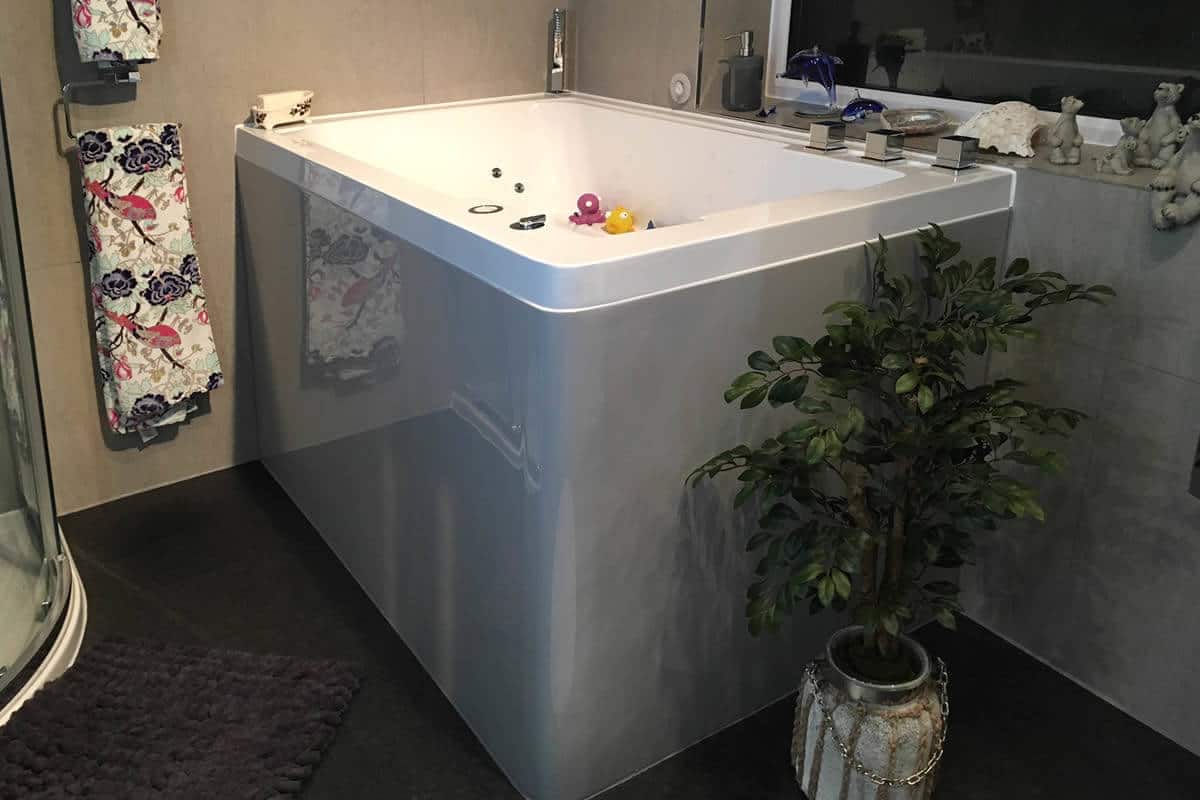 The Project:
In late 2016, Mr and Mrs R decided to renovate their family bathroom in Hampshire. Having often travelled in the Far East, they had plenty of experience of Japanese-style 'ofuro' soaking tubs and had always enjoyed using them. Thus, for their new project, they began a search for a bath designer that could provide a suitable model.
An internet search brought them to the Cabuchon Bathforms website, where they discovered the Nirvana deep soaking tub. They liked the bath's design and contacted Cabuchon's customer services team to discuss options. In particular, they were keen to take advantage of the company's colour matching service; the new bathroom would feature grey tiles and they wanted the bath to be fitted with a bespoke side panel in the same colour. The bath itself was also colour-matched to suit the couple's other items of sanitaryware. Cabuchon holds a library of 85 standard 'whites' as used by other manufacturers, so it was able to supply precisely the right shade.
Mr and Mrs R then took the decision to visit the Cabuchon showroom in Lancaster, where they examined the Nirvana close up and discussed various modifications, including the incorporation of a bespoke hydrotherapy system. This was tailored to their personal requirements and the jets were placed in a pattern to suit their respective sizes. In addition, although the Nirvana is normally produced with angled corners, the corner of the bath that would be set nearest to the door was made specially curved. The side panel was made with a matching radius. The couple also decided that the bath should be fitted with a combined filler/overflow to remove the need for  a separate spout.
Finally, since access to the bathroom would be restricted, Mr and Mrs R intended to bring it in through the window. Consequently, they asked that the bath's base be slightly modified to enable it to pass sideways through the space available. This was duly accommodated, with small adaptations to the Nirvana's adjustable foot attachment.
Based on their requirements, the Nirvana was then hand built and delivered safely to their home. Here, it was installed as a corner bath between the window and a separate shower cubicle. The colour of the side panel accurately matched that of the surrounding tiles and the couple pronounced themselves very satisfied with the result.
"Having travelled to the Far East on numerous occasions, I have always enjoyed using the deep soaking baths that are common in that part of the world. When we updated our bathroom, we wanted to fit a deep soaking bath, but these are not commonly found in the UK. We found Cabuchon online.

"Before making our final decision, my wife and I visited Cabuchon's showroom in Lancaster. Here, they make all their baths to order, which enabled us to select any colour we wanted. It also enabled us to include a bespoke Hydrotherapy system and a grey wrap-around bath panel. We were even given colour swatches to make sure the bath panel matched our bathroom tiles.

"We are delighted with the product and with the hands-on support they provided from start to finish.

"A Great British company that offers customer service that's second to none. Highly recommended."